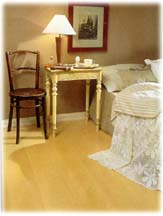 It's EUROPA pre-finished parquet flooring that now steps in, to grace your interiors. Brought to you from world leaders-Langmoen Parkeet (Norway), the first hardwood flooring manufacturer to be given ISO 9001 certification. This easy-to-install flooring coated with several layers of tough acryil based U.V. lacquer, combines European sophistication with durability and convenience. Easy to clean, dust-free, hygienic, Europe makes you feel comfortable in both cool as well as warm climates. Europa is beautiful, timeless and extremely versatile. Whatever your choice of decor, Europa will emphasise your style. So bring in Europa. Let it create an elegant ambience, transforming your surroundings into a bed of sheer luxurious comfort.
Wood... naturally healthy!
Natural wood is your best choice for healthy interior environments. Today, one is every four people-especially children-suffers from allergies or respiratory problems. Many doctors recommend hardwood floors as dust-free, hypo-allergenic alternatives to carpets, (dust and mites which can gather in carpets are the most common sources of household allergies). And for those who are on their feet most of the time, Europa flooring is a pleasure to walk on.
Stable hardwood flooring is installed only once!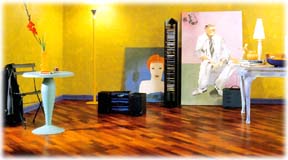 Europa has a unique three layer construction with the middle layer at right angles to the top and the bottom layers. This minimises the wood's natural tendency to contract and swell according to air humidity. The top layer or the ware layer in hardwood is pre-finished with several layers of tough acryil based lacquer. The normal wear and tear occurs on the lacquer and not the actual wood. This top surface can be sanded over many times and re-finished to give your Europa flooring a new look, time after time. In the unfortunate event of your Europa floor sustaining significant damage, one or more strips or whole boards can be replaced by our hardwood flooring professionals. This is one of the unique advantages of choosing Europa flooring over other alternatives.
Easy to maintain Europa
Regular cleaning It is easily accomplished by simply using a vacuum cleaner or a dry mop. Even a damp well wrung-out mop or cloth can be used. Wetting the floor, using abrasives and other detergents with ammonia are neither recommended nor necessary.

Spot removal Water marks and spots can easily be removed. All you have to do is immediately wipe the floor with a moist cloth and mild soapy water. And, the remove some common spots, you only have to look at the table given below.
| | |
| --- | --- |
| Remove spots of | With |
| Fruit, berries, syrup, milk, cream, soft drinks, beer, wine, coffee and tea | Synthetic detergent |
| Chocolate, fat (grease), oil, shoe polish, scuffs from shoes, tar, asphalt | White spirit |
| Typewriter ribbon, ink, ball-point pen, lipstick | Careful use of methylated spirit |
| Urine | Synthetic detergent |
| Blood | Cold water |
Europa... Dream material for a designer
Europa is so flexible and versatile, it opens many possibilities for experiments with uncommon interior designs and the floor's own image and form. And, the fact that Europa can also be laid over an existing floor, gives designers the opportunity to add value to jobs already completed.
| | | | |
| --- | --- | --- | --- |
| Oak | Birch | Beech | Ash |
| Jarrah | Merbau | Maple | |