Apart from our manufacturing activities, we now have a Trading Division to take advantage of the growing consumerism in India, the gradual opening of the Indian economy and our own strengths of large infrastructure and a countrywide distribution network.
We are importing parquet flooring from Europe, MDF and other panels from Malaysia and Indonesia. We are looking forward to widening our range and welcome any proposals that you may have.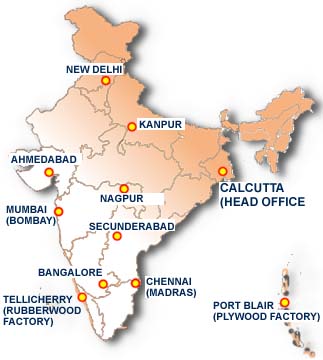 Apart from our offices at the above locations, we also have a very strong dealer network spread across the country.
HEAD OFFICE
Calcutta
8 Acharya Jagdish Chandra Bose Road, Calcutta 700017, India
Phone +91-33-2475704 • Fax +91-33-2400833
E-mail ati@andamans.com
BRANCH OFFICES
New Delhi
1012 Indra Prakash, 21 Barakhamba Road, New Delhi - 110001, India
Phone + 91-11-3711820, 3352546 • Fax + 91-11-3711821
Mumbai (Bombay)
7-8-9 Dunhill Castle, Hanuman Road, Vile Parle (East), Mumbai - 400057, India
Phone + 91-22-6118761, 6152458 • Fax + 91-22-6117196
Chennai (Madras)
9B Raja Annamalai Building (3rd Floor), 19 Marshalls Road,
Egmore, Chennai 600008, India
Phone + 91-44-8554023 • Fax + 91-44-8554005
E-mail chennai@andamans.com
Bangalore
88 II Main, Palace Guttahalli, Bangalore 560003, India
Phone + 91-80-3445098
Tellicherry (Rubberwood factory)
10/190A Kunduchira Road, Eranholy P.O., Tellicherry 670107,
Kannur district, Kerala, India
Phone +91-490-233796 • Fax + 91-490-232417, 231931
Port Blair (Plywood factory)
Bamboo Flat, Port Blair, Andaman & Nicobar Islands, India
Phone + 91-3192-83223, 83247 • Fax + 91-3192-83274, 33186